ACCC 37th National Oncology Conference [On-Demand]
Register

Non-member - $300
Member - $100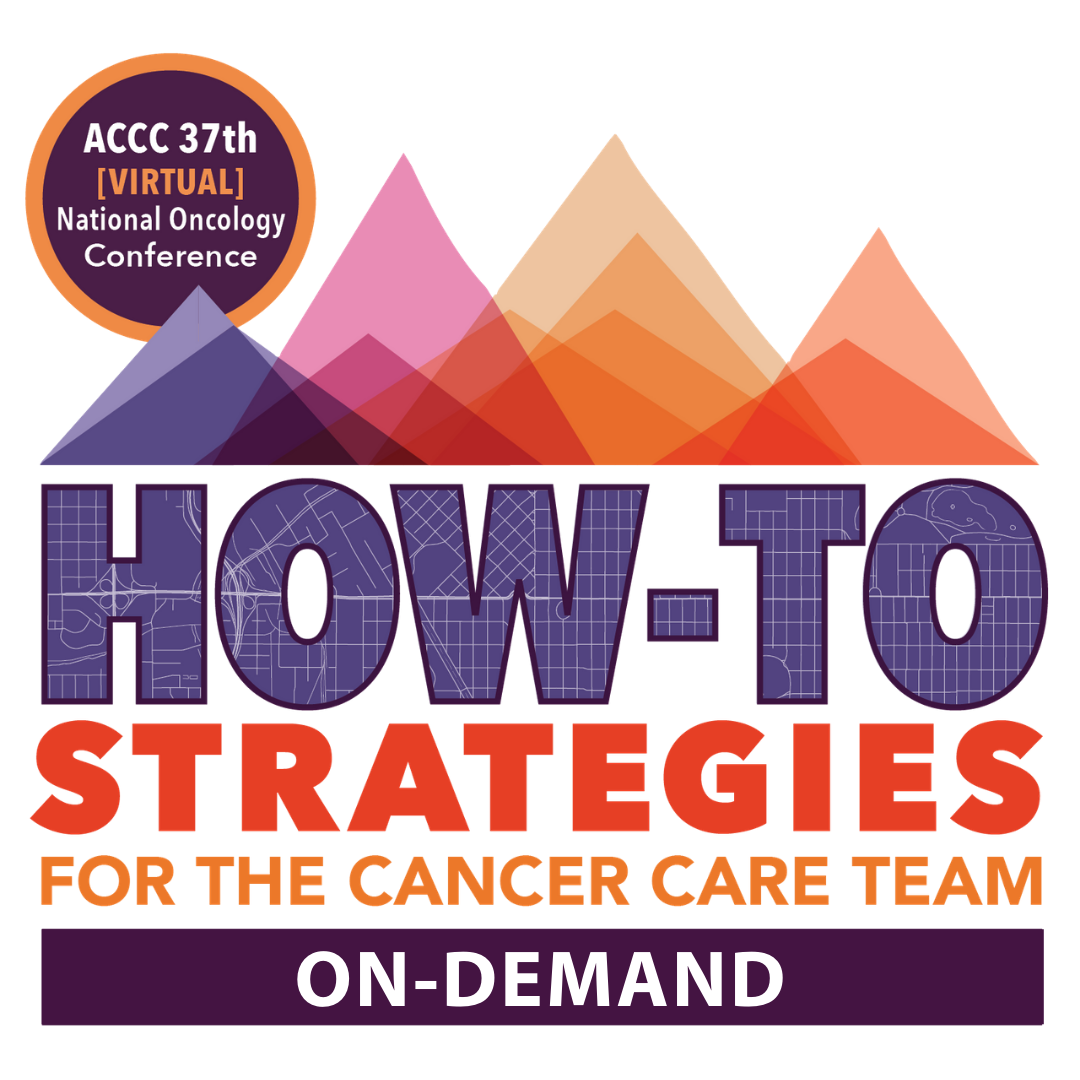 The leading conference for innovation in cancer care delivery is now available on-demand!
Discover the convenience of viewing the ACCC 37th [Virtual] National Oncology Conference (#ACCCNOC) content from your home or office.
If you registered for the virtual conference in September, on-demand access is included in your registration. You can revisit the sessions for a deeper dive or catch the presentations you didn't have time to watch.
Participation in the enduring activities of the ACCC 37th National Oncology Conference will be available for 12 months and will award continuing education hours for physicians, nurses, pharmacists, and administrators as appropriate.
If you haven't registered yet, it's not too late! Click the green Register button in the upper right corner of this page to purchase the #ACCCNOC on-demand content package.
Registration Type

Registration Fee

ACCC Member

ACCC Cancer Program Members, Individual Provider Members,
ACCC Individual Consultants, Industry Members,
and members of the Oncology State Societies at ACCC

$100.00

Non-member Provider & Industry

Individuals who are employed by a cancer program, practice, non-profit organization,
consulting company, pharmaceutical/device manufacturer,
diagnostic testing company, or technology/analytics company

$300.00
ACCC Industry Advisory, Emerging Companies, and Technical Advisory Council Members and employees of sponsor companies of the ACCC 37th [Virtual] National Oncology Conference are entitled to a free registration. If you are not yet registered, please contact Mike Andrews, Senior Director, Corporate Relations or Don Cooksey, Senior Manager, Exhibit Sales & Corporate Relations for further assistance.
#ACCCNOC On-Demand Highlights:
Learn from your device where it's convenient for you—watch presentations on your computer, tablet, or smartphone
Relive the conference experience with presentation slides with synchronized audio and video
Access more than 10 hours of breakout sessions and keynote presentations
Learn on your schedule with 24/7 online access
Personalize your #ACCCNOC On-Demand learning experience by tailoring your professional development to your own interests—on your own time.
For the best registration and viewing experience, please use Chrome, Edge, or Safari web browsers. Internet Explorer users may experience difficulties accessing this content.
If you have any questions or feedback, please feel free to email us.
#ACCCNOC On-Demand allows you to watch and re-watch sessions on your own time, with a better ability to:
Review leadership strategies to enhance resilience among teams and organizations in response to adversities and to review strategies to improve the quality of cancer care

Integrate innovative approaches for onboarding experienced non-oncology nurses to address staffing shortages

Use targeted management algorithms to identify patient co-morbidities aiming to reduce hospital and emergency department admissions

Discuss the benefits of creating and implementing a collaborative pharmacist practice agreement to improve oral oncolytic workflow and reduce treatment delays

Explore the use of a 3D-printed lung nodule educational tool to help providers educate patients, reduce distress, and engage in shared decision-making

Outline approaches to implement a nurse navigator-led community-based cardio-oncology clinic to manage cardio-toxic side effects in oncology patients and improve patient quality of life

Identify clinical variables associated with increased risk of hospital and emergency department admissions using predictive modeling and proactively manage patients to reduce readmissions after chemotherapy

Adapt a transition plan to administer chemotherapy in the outpatient setting to improve care, lower infection rates, improve quality of life, and reduce cost of care

Investigate the role of prehab, rehab, and prospective surveillance in improving patient experience, reducing hospital stay, early identification of physical impairments, functional limitations, and/or treatment restrictions, and in palliative care for patients with advanced cancer

Examine strategies to address the disparities faced by women in oncology